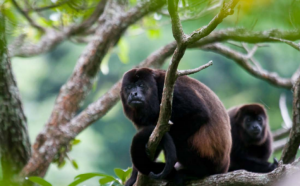 As you may know, Nicaragua went through a serious drought earlier this year. In fact, it's the worst dry spell Nicaragua has experienced in over 30 years. The dry tropical forests in the Paso Del Istmo that we work in have been hit hard, and as a result many species are struggling to find the water that they need to survive. One such species is the Mantled howler monkey. The Mantled howlers have already suffered losses in the past due to deforestation in the area, and now their numbers are declining even faster, possibly as a result of the drought. Scientists believe that the massive number of dying monkeys may be related to a mosquito-borne pathogen, or perhaps a result of the monkeys having to turn to different, potentially toxic, food sources as their usual ones were scarce in the drought. Earlier this year, Paso Pacifico verified over 100 monkey deaths in the Paso Del Istmo Biological Corridor, which is an exceptionally high number in a relatively small area. Paso Pacifico has submitted an application to the Nicaraguan government requesting funding to research this issue, and we are working with primate specialists from UC Davis in hopes that we will understand what is causing this mass extermination of the monkeys.
After observing multiple sick and dying monkeys, we set up watering stations for the monkeys across the dry tropical forest with the help of our Junior Rangers in an effort to alleviate some of the hardships on the ecosystem that came with the drought. Inspired by our Junior Rangers' initiative to help the monkeys, locals began an organization called Salvemos Los Monos de Rivas (Save the Monkeys of Rivas). Salvemos Los Monos has recruited hundreds of volunteers, who have done incredible work in Nicaragua. Salvemos Los Monos de Rivas regularly refills watering stations with fresh water as well as fruit. They have also begun a reforestation campaign in San Juan Del Sur, where they've already planted over 80 trees. We encourage you to join our efforts by donating to Paso Pacifico, or if you're in the San Juan del Sur area, reach out to the Salvemos los Monos group.
Donate to our programs here.