On April 22, 2015, USAID issued the Wildlife Crime Tech Challenge in an effort to bring together international communities to create solutions that address critical wildlife crime issues. One of the issues highlighted by the challenge is the network of well-established international transit routes that poachers and traffickers use to move their products to customers. These transit routes are the backbone to the global wildlife trafficking industry which generates billions of dollars in illegal revenue annually. However, many of the routes are largely unmapped and therefore difficult to monitor.
In Nicaragua, poachers take the eggs of endangered sea turtles that nest on the beaches to sell on the black market. There are four species of sea turtles that nest on the Pacific coast: the Hawksbill, Green, Leatherback, and Olive Ridley. Individual sea turtle eggs can sell for several dollars a piece. With hundreds of eggs in each nest, thousands of eggs are taken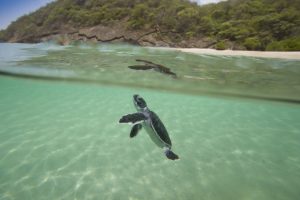 each year. In an effort to deter poachers and protect the eggs, Paso Pacifico began a project designing artificial sea turtle eggs with embedded GSM-GPS trackers. We entered our project into the Wildlife Crime Tech Challenge, and out of the 300+ entries from around the world, we were selected as one of the 16 winners! Our project was also featured in Obama's Presidential Task Force on Wildlife Trafficking's annual report.
We are currently in the process of perfecting the design of our eggs, which has proven to be a difficult task. Sea turtle eggs are soft and flexible in order to protect them when they are being laid, and matching the weight, size, and consistency of the eggs while hiding a battery and GPS tracker inside is no small feat. To get the eggs just right, we are using 3D printed prototypes and working with a Hollywood special effects artist. We are also working with TILE, a company that makes small GPS and Bluetooth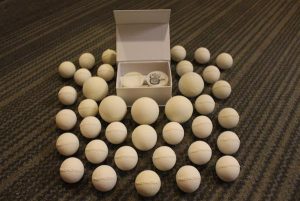 enabled trackers that work on a network of Bluetooth devices for real time tracking. While intended to help people from misplacing their keys, the technology used by TILE is very applicable to our sea turtle egg project. TILE will allow smartphone users to download a mobile app and help detect stolen sea turtle nests via the data received from our very own artificial eggs! The hope is that these eggs will reveal transit routes used by poachers, allowing authorities to take action to inhibit these well-hidden illegal trafficking organizations.
Sea turtles are crucial members to the ocean ecosystem. They are an umbrella species, which means they have complex habitat requirements which encompass a whole range of organisms. By protecting sea turtle populations, we can ensure the future of ocean biodiversity. Scientists also look at sea turtles as indicators of ecosystem health. For example, green turtles are some of the few species that graze on seagrass,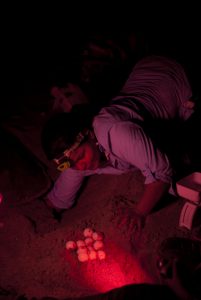 which helps to keep algae populations in check, and the structure of the seagrass beds in place. Fish, crustaceans, and shellfish use the seagrass beds as breeding and developmental grounds, and without the beds their numbers are declining, which is an issue as humans use those creatures for food. Sea turtle eggs also provide food to the invertebrates and wildlife along the beach, and also provide nutrients to coastal vegetation, which reduces erosion and creates biodiversity on shore. Sea turtles also provide a long-term source of income for the local communities as tourists come from around the world to see the turtles and their eggs. Our partners at seeturtles.org have custom tours to our nesting beaches and Paso Pacifico is providing training to local guides in order to promote sustainable sea turtle tourism.
Contribute to our work here.